Zodiac memes are primarily funny text blurbs that highlight the differences between the different Zodiac signs. Though, there are some image-based versions, as well. Usually, each meme has a specific theme like fears, wants, internal thoughts, etc. People that are into astrology will probably appreciate the memes more than a 'casual', but these humorous zodiac sign memes routinely make the rounds of social to the enjoyment of many, and the annoyance of some.
About The Zodiac Signs
Zodiac signs represent the twelve different intervals of people's dates of birth. Zodiac memes are therefore templated phrasal used in a humorous style to describe a particular group of people's nature. They take the form of "according to your sign" to describe a person's characteristics based on a specific theme. Each sign represents a trait that aims to create a sense of humor. Many people take them as facts but to some, it's a way of passing the time and bonding friendships.
Origins Of The Meme
Zodiac sign memes started in the year 2011 on November 29th with a sex-related meme. The post was from theshewxlf user of Tumblr social media platform. The list had the sexual interest associated with each zodiac sign. She describes each of the twelve signs and gives each sign its attention. This is the way through which Zodiac memes got their way into the social media platforms (Source).
The Spread
After theshewxlf first zodiac sign-post, it followed a list of similar memes that featured all the twelve signs based on different themes. Some bloggers who had posts into Tumblr includes; Dril, Smosh and BuzzFeed. The memes grew in popularity, gathering thousands of notes. With surging growth in the number of related-posts, Zodiac signs memes occupied the whole world- which annoyed a lot of people who aren't into astrology but beguiled people passionate about Zodiac symbolism (Source).
A Zodiac Meme Video Tour
That video should sate your astrological meme needs, but we also gathered over 30 of the top-trafficked memes on differnet social platforms. Check them out below for laughs and insight!
The 30+ Best Zodiac Memes
Jersey Shore Sagittarius
This is a funny throwback- if you're of a certain age, you remember the Jersey Shore on MTV. We're not sure what Snooki's zodiac sign is, but as you can see from the closed captioning, she's obviously betraying signs of a Sagittarius' lascivious impulses.
The Virgo Rollercoaster
The "Virgo Be Like" meme is another funny example. It shows a Mom-looking woman on a rollercoaster with arms crossed, obviously looking unimpressed. It apparently encapsulates the Virgo's serious nature.
Pisces In The Desert
This 4 panel cartoon demonstrates, apparently, the Pisces need for a fulfilling sex life.
Cancer Canceling Plans
This Instagram post is captioned "me this whole weekend", apparently referencing the Cancer's couch potato tendencies.
Pisces Driving People Insane
Innocent vs Deadly
This #zodiacmeme on Instagram analyzes which of the signs are actually innocent and which harbor dark, murderous intentions.
Libra Sexualizing Everything
Aquarius Boyfriends
Deflecting Accusations Of Hypocrisy / Virgos
A cool looking infographic, this meme showcases a Virgo's psychological tendencies: "a new critical, spell-checked approach to deflecting accusations of hypocrisy by acting above it all." It's an effective format- giving the meme an almost academic look.
All The People I Fantasize About Killing / Aries
Self Care Rituals By Zodiac Sign
This is a pretty viral one- showing off a pink backdropped meme of self-care rituals. People love memes like this, frequently tagging their friends on platforms like Instagram, making the meme experience a virtuous cycle of virality. The Aries apparently likes to workout, the Capricorn self-cares by running a warm bath, the Libra endorses manicures, the Scorpio naps, the Pisces enjoys pedicures while the introspective Gemini journals.
Taurus & Their Lovers
In this one, a guy is bound to the bedpost and is forcefed by a Taurus, who is trying to 'keep her lover'. You can see him getting fed KFC chicken and ice cream, making him so fat that he's no longer attractive!
Before Virgos Let You Into Their Lives
This one strikes close to home- one of our primary writers is a Virgo! From their experience, the Virgo is excessively careful running their lives, particularly when it comes to emotionally volatile situations. So, a prisoner holed up in administrative segregation, staring out of the food door, really encapsulates the Virgo's love life.
Geminis And Bad Energy
With the world burning around them, the Gemini demonstrates oblivious self-love.
Gemini & Bipolar Disorder
Proving Them Wrong / Gemini
Capricorn Gamers
Nine Cans Of Ravioli / Taurus
We're not super-educated on the Zodiac symbology, but we do like The Trailer Park Boys, which is the show this character is from. It's a funny meme, even if we don't quite get it- the character was famous for his comically low-rent behavior.
Zodiac Signs' Fears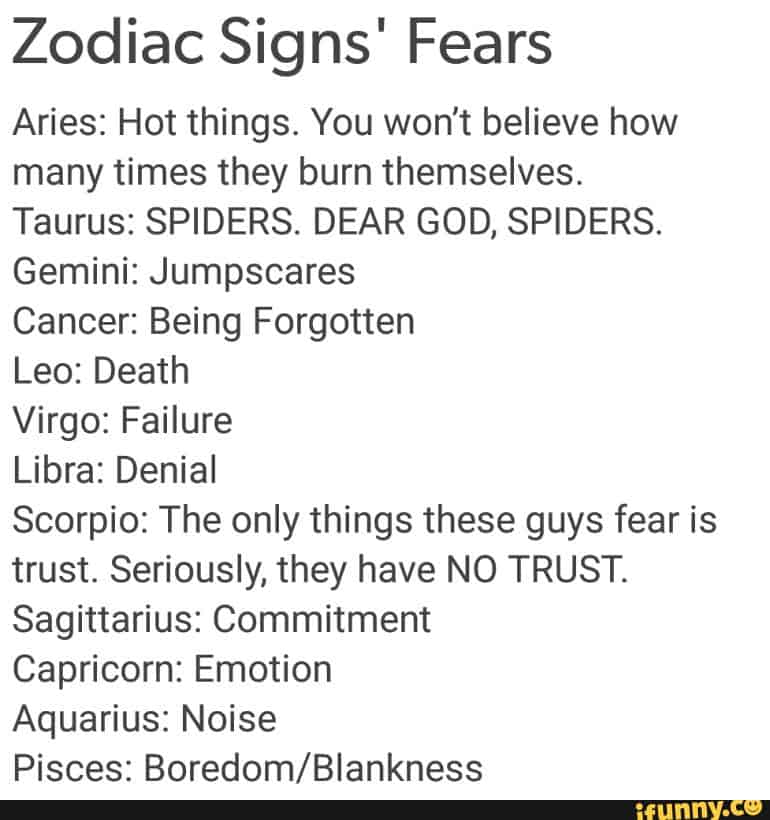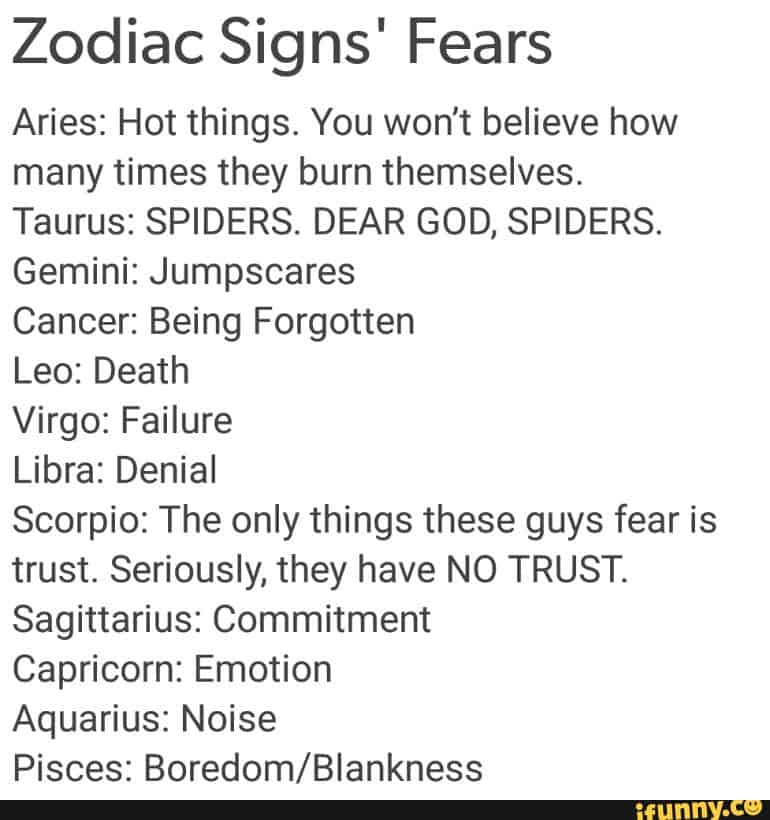 If you're wondering what the greatest fears of each sign are, check out this meme from ifunny- they document all of them in a big text blurb. Cancer's apparently fear being forgotten, Virgo's fear failure, while Capricorn's are worried about emotions, and Pisces dread boredom.
What The Signs Want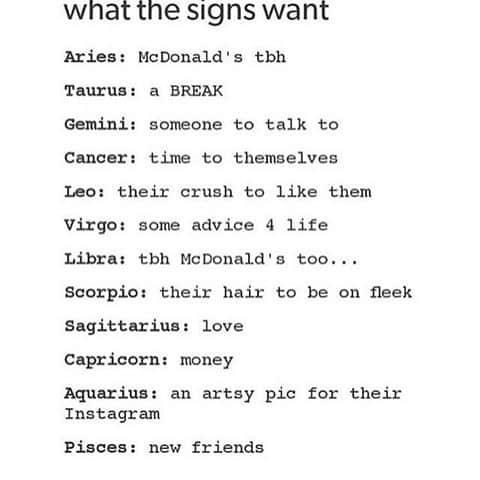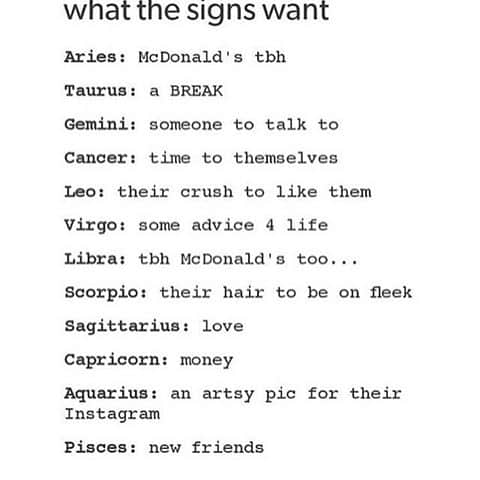 When In Trouble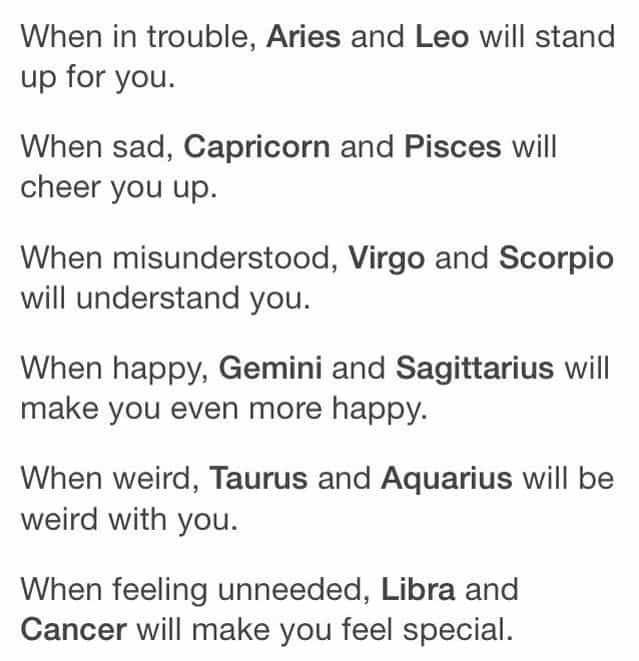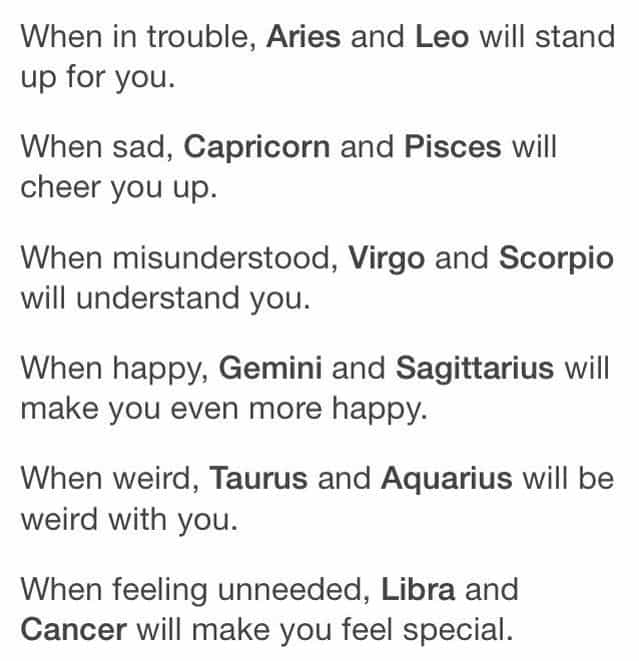 When They Go To Bed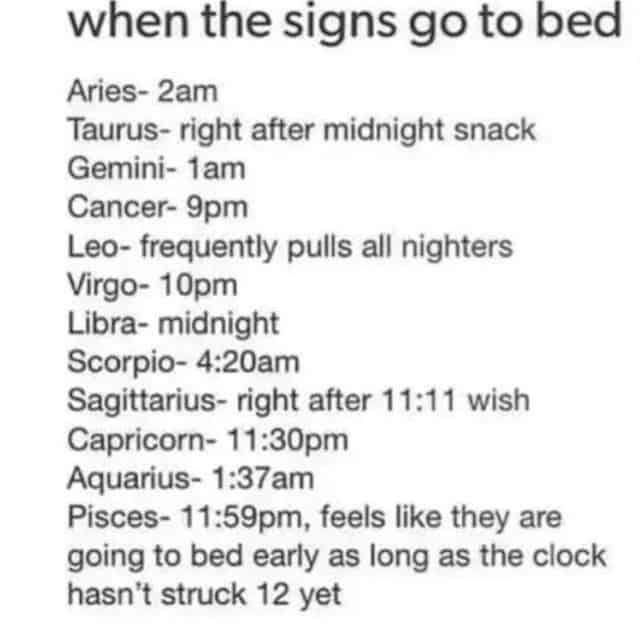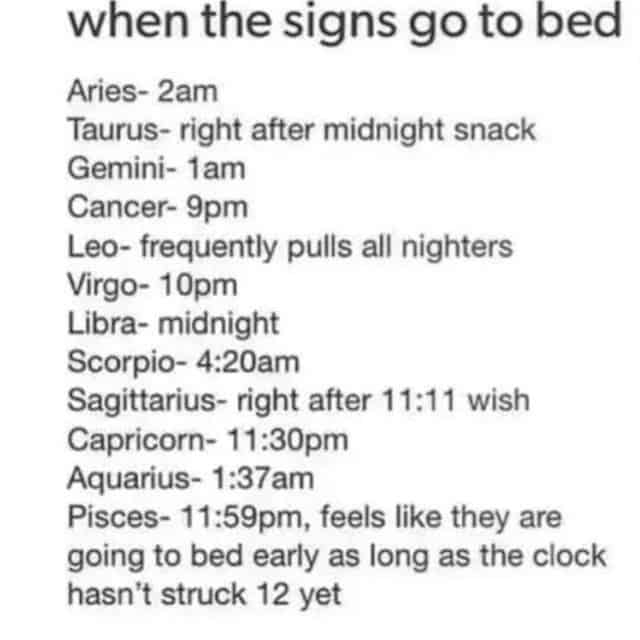 Types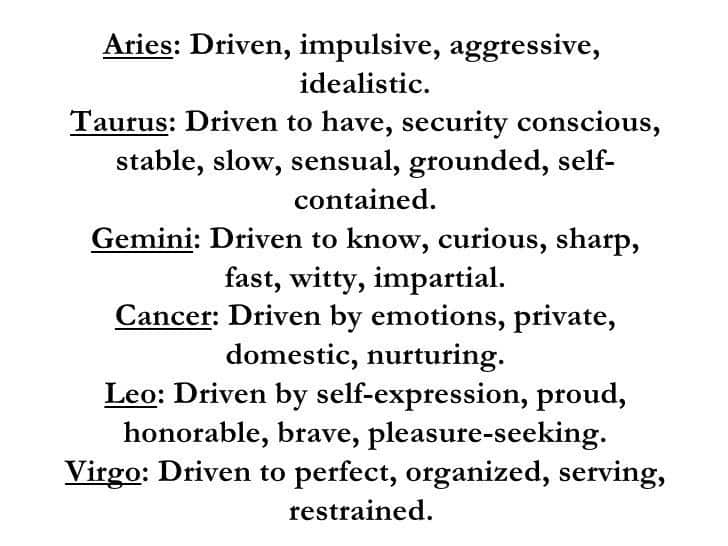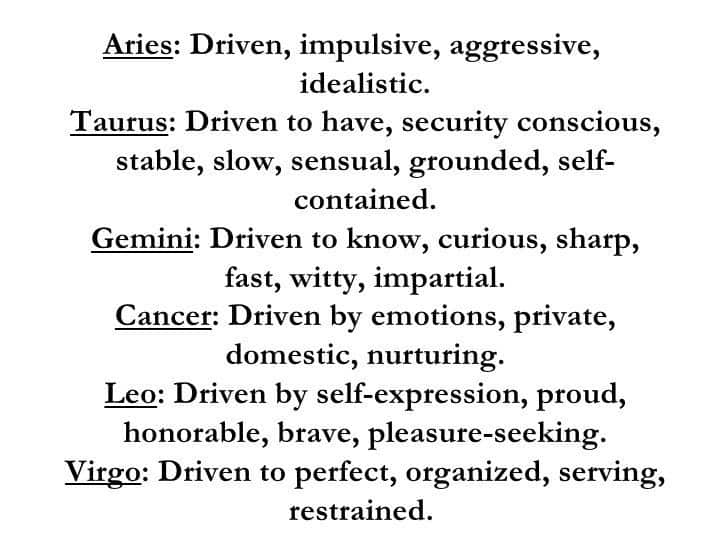 The Signs Crying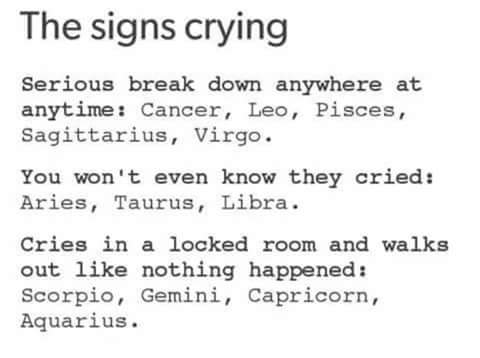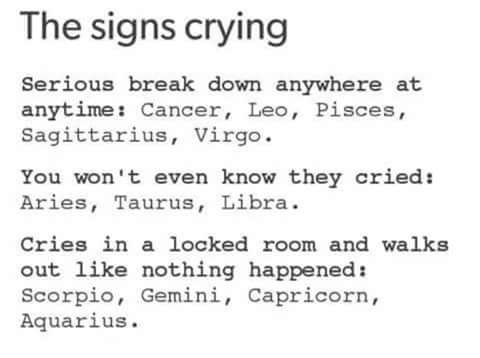 When Bored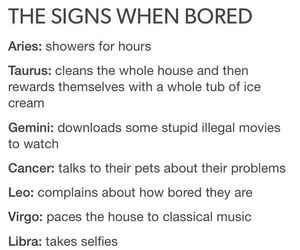 Whoah…
Top Feelings

When Seeing A Fight
Internal Thoughts

Big Red Button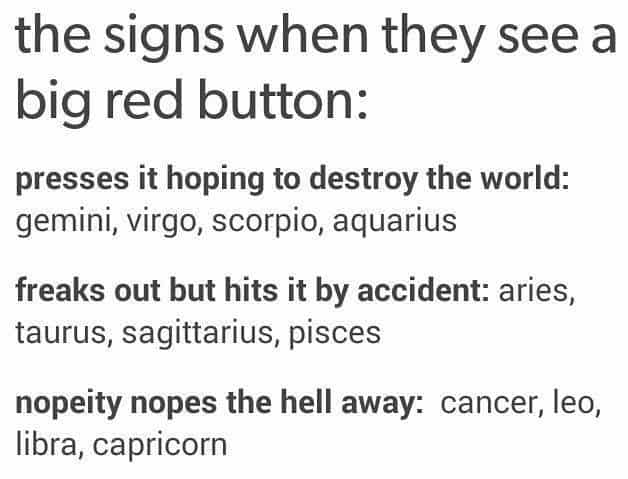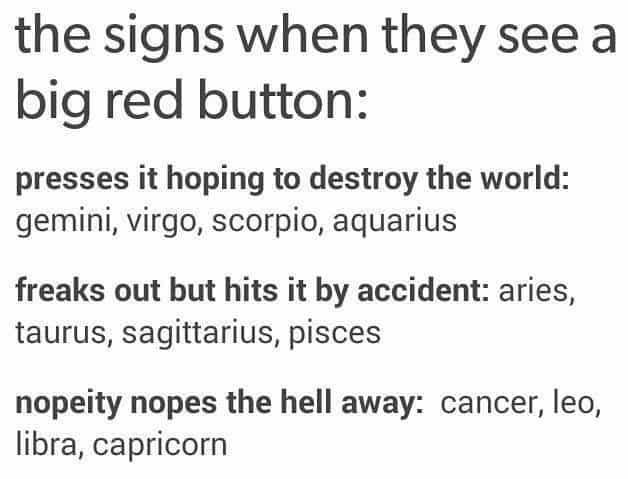 This meme examines how the different signs react to a big red button- some want to see the world burn, others hit accidentally, others nope out.
Ted Cruz Zodiac Killer Meme
Closer than you think!!! Ted Cruz is actually the zodiac killer! pic.twitter.com/NUcIe5lQCm

— Darby (@darby_t7) January 28, 2019
The Ted Cruz Zodiac Killer meme relates to a mock conspiracy theory proposing that the 2016 Republican presidential candidate Ted Cruz is actually the mysterious serial killer nicknamed the "Zodiac Killer". He declared that he murdered 37 people in a series of anonymous letters in the late 1960s and early 1970s.
Summing Up
Today people follow meme hashtags on Instagram to learn about trending news in politics, culture, sports and more. Whether you're an Aries, Taurus, Gemini, Cancer, Leo, Virgo, Libra, Scorpio, Ophiuchus, Sagittarius, Capricorn, Aquarius and Pisces there's a hashtag to follow.
In addition, people track the stars to learn about their personalities. Zodiac signs turn to be a perfect way to connect with people and strengthen our friendship bonds- providing amazing insights into who we are and what our tendencies are. They are used for fun throughout social media platforms and are a way of connecting people. The whole world understands the signs and therefore, they are a universal language.
Were you wondering about zodiac memes, their origin, and spread? There it is folks! Consider using social media platforms to learn more about your personality through Zodiac memes.