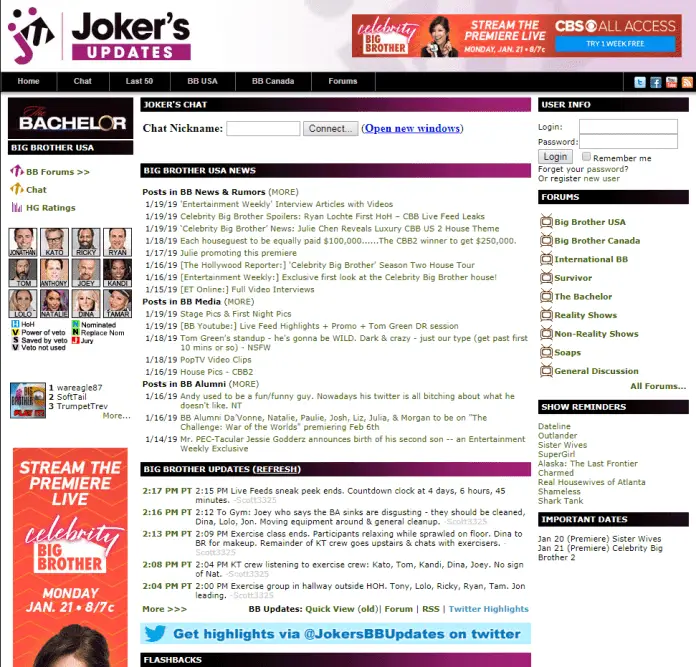 If you're a Jokers Updates user, you probably consider yourself pretty well versed about the website. But we dug up some cool features you might not know about- read on to discover what they are.
Jokersupdates.com is a forum that mostly focuses on the CBS show Big Brother. Though links can be found for other dramas on CBS on the right side.
We actually stumbled across it when we saw the #jokersupdates hashtag on Instagram.
5 Fun Features Of Jokersupdates.com
1. Non-Big-Brother Forums
There are tons of niche forums for the reality shows you love- not just Big Brother:
You can see a bunch of these Forums listed out in the right widget area of the page under the header FORUMS:
2. You Can Chat
Did you know that Jokers Updates has a chat feature? So if you're a Big Brother nut, you can cheat in real time with other reality TV addicts:
3. You Can Rate The House Guests
If you head over here on their site, you can actually rate the house guests! A pretty cool feature.
4. Tons Of Big Brother Bio Links
Did you know that the website is just about the definitive resource for all past and current Big Brother contestants? Check it out. For example, for Season 19, they link to resource pages for all the contestants:
Big Brother 19 USA (0)
Alex Ow (2)
Cameron Heard (2)
Christmas Abbott (8)
Cody Nickson (2)
Dominique Cooper (4)
Elena Davies (3)
Jason Dent (6)
Jessica Graf (4)
Jillian Parker (1)
Josh Martinez (3)
Kevin Schlehuber (2)
Mark Jansen (4)
Matthew Clines (2)
Megan Lowder (2)
Ramses Soto (4)
Raven Walton (6)
5. Last Posts
The Last Posts option shows you the latest Forum topics all in one deep-purple feed. It's an easy way to make sure you're up to date on everything thats happening.
Big Brother On Instagram
There's also a lot of Big Brother content on Instagram- some even using the #jokersupdates hashtag:
Joey Lawrence highlights the introduction of a new season:
Can you name all the presidents?
The cbs_bigbrother Instagram account posted this fun name-the-president game:
What I now know is there are 12 people in the house and only one toilet. This year's season of Big Brother happens to be a Celebrity edition.
On Social
We have to admit, we have never seen Big Brother. But we're going to pick apart this website in an attempt to actually figure out what it is about.
If you are like us and have never seen an episode of Big Brother take notes, because from what I have learned so far is that the producers are sadistic.
So the site is pretty cool. Everything you would want to know about the current season of Big Brother can be found in one place. To rumors, news, and alumni each has its own section. As well as Big Brother updates to their Twitter account.
Their Facebook account makes it easy to access videos, and shares updates relating to Big Brother news. Through social media, I have discovered it's some sort of sassy game show. Joker's updates seem to be most active on Twitter.
Though their Instagram and YouTube channel seem to be a letdown. Their Instagram is just blah, and their YouTube channel hasn't been updated in four years. It is possible that we don't know enough about the show to enjoy it.
About The Show
The show features 12 strangers locked together in a house, this season I have learned from Joker's Updates that there will only be 2 showers, and 1 toilet between the 12 house guest, that alone is sadistic. Big Brother is vaguely reminiscent of voyeurism and the host seems like a happy social sadist. The joy is, that this entails all those wonderful little meltdowns, that we all feel would be the best reason to watch the show.
There are also links to Big Brother Canada and Big Brother international. That includes Big Brother Australia and Big Brother UK! I had no idea! Thanks, Jokers I am now informed! If you are REALLY into Big Brother there is even a chat room connected to the site. I'd test it out, but I am a poser. There is a link section that shows you all the past contestants. Including links to their Facebook accounts and Instagram. Though their Instagram is a little bit of a letdown.
If you want to really know what is going on with Joker's updates and Big Brother the best way that I have found is Joker's Updates Twitter. Man, I didn't want to have to say that. It's true though, their Twitter has everything laid out, even if it is not quite the information jokersupdates.com has.
Rumors
Plus, the rumors on their site are really, interesting. Did you know that every houseguest on this upcoming season ofBig Brother will make 100,000 dollars? The winner takes home 250,000! I mean, we're homebodies, and could probably be locked in a house with strangers for that kind of money, though we're not sure we could survive the games. The US Big Brother doesn't even pay as much as the UK version, which makes us drool with envy.
Speaking of games, Jokers Updates has their own grab game. From what I understand it is like a fantasy football for voyeurs. Though, again I don't know much about it. The instructions are more how to properly register for the game and disabling your popup blockers, and not so much on how the game is played. From what I read, you have a set amount of time to play it before you can't enter your answers. Time is over when the episode airs.
From what I understand, you place your bet on who is going to be evicted from the Big Brother house. If you have not entered your answers or try to change your answers they will be automatically deleted. Weekly winners will be announced after the games are scored, and seasonal winners will be announced after the season is over. Sounds kind of fun.
So overall, jokersupdates.com is a wonderful site, full of wonderful information, about Big Brother. From what I can see their twitter is, very reliable and used frequently, but there is no more information on it than there isn't on their website.