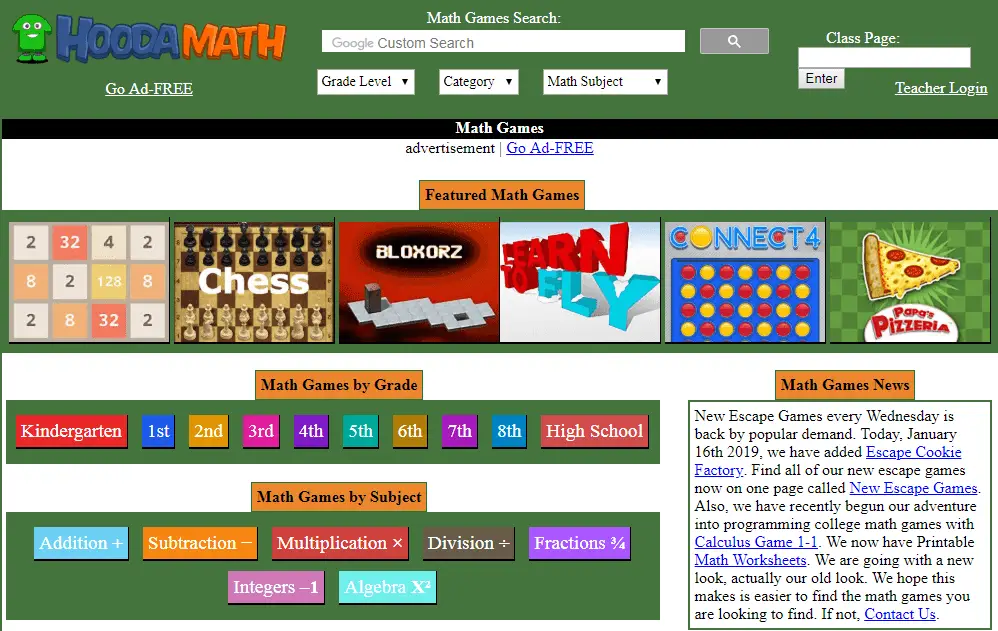 Hooda Math is one of the most reputable websites when it comes to gamifying arithmetic and helping help children learn mathematics online.
It's an online website that is run by a licensed math educator who used to teach middle school mathematics in an urban school district.
As a teacher, the educator saw that there was the need to create a robust, positive relationship between math and kids between the ages of eight and sixteen.
In this post, we're going to highlight five of its top features- some of which even seasoned users don't know about. But first…
Fun On Instagram
We actually found out about Hooda Math from Instagram because the #hoodamath hashtag was trending. Their account has some fun, and even somewhat timely, content:
The Hooda Math YouTube channel is also a fun watch- they do a lot of game playthroughs on there. Here's a recent upload:
The 5 Fun Ways You Can Use HoodaMath.com
1. Math Tests
There's a bunch of tests you or your students can take to help assess skill level.
 You can use these tests to help students develop confidence in their arithmetic skills.
Today, Hooda Math has become the leading online math games site. It has gone a long way to encouraging young students to see math in an entirely new light. Another advantage of this site is that it has helped in building confidence in the students who commonly fail in math. The following are some of the ways in which the site has made learning of math fun and more comfortable.
2. Weekly Competitions
Weekly competitions are also a thing- playing the new dynamic educational video games add some fun, timed excitement to arithmetic. Head over to the homepage and you can see in the right widget area announcements about the competitions:
The website contains new competitions every week. All children out there love participating in sports, and this means that the presence of cool math games will make the learning more fun. The site also has something new in the geometry and arithmetic category thus preventing boredom. They will not have to learn the same thing over and over again because of the different content found in the logic, geometry, and arithmetic games. All these things have different roles to play. The geometry competitions help the kids understand the relationship between angles, areas, perimeters, and volumes.
On the other hand, arithmetic competitions help the children gain more knowledge on numbers and other mathematical operations such as addition, subtraction, division, percentages, decimals, and multiplication. Logic games are aimed at improving problem-solving skills as well as inductive and deductive reasoning. By using others such as Real Estate Fun, Cargo Math and Inn Keeper that are available on the site, kids are also able to apply arithmetic concepts into the real world. We all know how beneficial video games can be and especially for children and their young brains. They improve their cognitive abilities and also strengthen their mental flexibility.
3. Tons Of Games
If you head over to their High School section, you'll see that they have a bunch of different games to play. And not just for high school- you can find games for relevant grade levels, as well:
Calculus Game 1-1
Combination Lock
Target SOE
Slope Intercept Surround
Transformation Golf
Hooda Bridge
2048
Oblong
Integer Tilt
Sand Grid
Flush
Hex Wars
Pentapuzzle
Tronix
Mini Golf
Hooda Dissection
PiMon
It definitely behooves educators to take advantage of all the differentiated games. The video competitions found on Hooda math are more constructivist than traditional- helping with writing as well as math.
This characteristic enables them to be easily differentiated and suit kids from all levels and with varying degree of mathematical skills. Therefore, there is no student who can be left out because they are not as good at math like the rest. Teachers can use the printable worksheets to assess all the students work in the computer lab.
If you have some 8th-grade students, check out some of the games specifically for that grade level:
A Maze n Math
Papa's Hot Doggeria
Find HQ Backyard
Integer Eaters
Amazing Escape Atlantis
Find HQ New York
Papa's Donuteria
Papa's Pastaria
Find HQ Castle
40xEscape
Fraction Poker
Find HQ San Francisco
Papa's Pizzeria
Find HQ Cave
Find HQ Neighborhood
Bloxorz
10 is Again
Hooda Escape Hunting Lodge
Papa's CupCakeria
Papa's Burgeria
50 States
Integer Tilt 2
Multiplication Game
Hooda Escape Water Park
Papa's Pancakeria
Papa's Freezeria
3 Slices
Papa's Cheeseria
Find HQ Miami
Basket Balls
Papa's Taco Mia
Papa's Wingeria
Integer Warp
Find HQ Glacier National Park
Day Trader
4. Core Standard Organization
Since Hooda Math is used by teachers, parents as well as kids, the content on the website is organized and aligned according to the core standards of the United States. Another good thing about the information on this site is that it can be applied in other contexts. Therefore, kids can use it to emphasize basic mathematical skills and their understanding of subtraction, addition, logic, geometry, and arithmetic. In addition to that, the site has many different puzzles and maze games that help challenging the mathematical thinking of the learners. All that is fun, isn't it?
5. Advanced Tutorials
If you visit the tutorials section of the site, you will see discussions on critical topics such as decimals, algebra, integers, and fractions. The role of these tutorials is to make it easier for the students to understand the subjects and solve any mathematical calculation. There are also links to worksheets that can be used in complementing the available competitions. The good thing about them is that you can choose the ones that suit you best and leave the ones that overpower you.
We can all admit that sometimes we get bored and have nothing to do. Watching TV and surfing on the computer also has its limits. One of the best solutions to getting rid of this boredom is playing a video game. On various websites such as Hooda Math, you will find sets of all types which keep the children busy, enjoy themselves and learn math at the same time. It is the responsibility of every parent and tutor to ensure that their children excel well in this subject. Before using the various math websites such as Hooda Math, it is advisable to try word tournaments and other free math games such as Ratio Martian and Alien Addition.
Summing Up
HoodaMath.com has a bunch of interesting features. While the user interface isn't always amazing, it still is a valid resource for educators to inspire their students to learn math.